This page lists current and future events within the Godot community, both on physical locations and online.
List of events
2017
Sat 22 April: Meet the Nodes, Godot event in Paris, France
Details about coming events
---
Meet the Nodes, Paris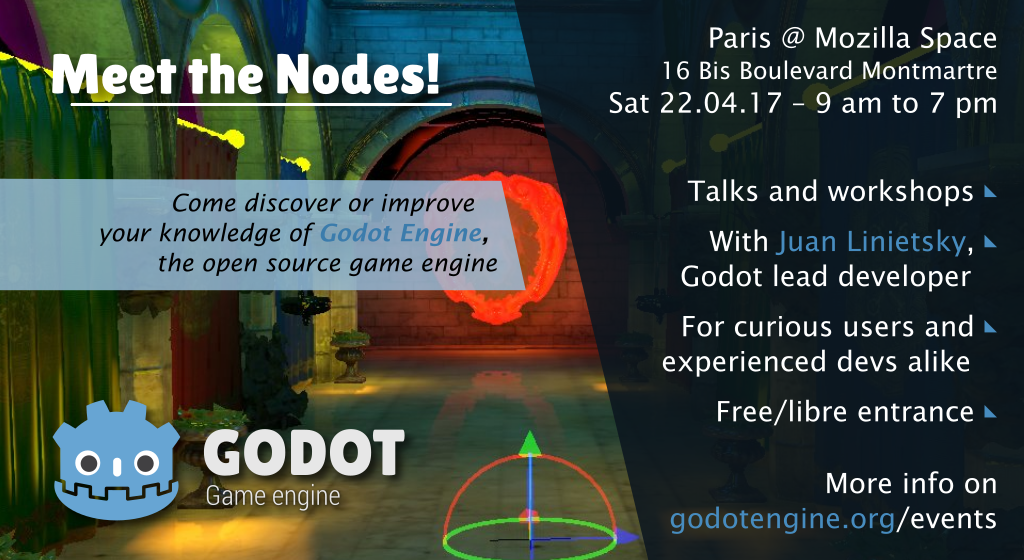 We are organising a Godot-focused event in Paris, France, on Saturday 22 April 2017. Many Godot developers and users will be there, including our lead dev Juan Linietsky (reduz). The event will take place at the Mozilla Space in Paris (address below), from 9 am up to approximately 7 pm (no big keynote should be after 5 pm though).
The event will be partly talks from Godot developers about their current projects, engine features, etc., as well as workshops. Both curious beginners and experienced developers should find something interesting to work on, be it discovering the engine and make a simple game or hacking at the engine code and developing new features.
Schedule and talks
Call for papers coming soon™ on the blog. Expect at least talks or workshop led by key developers such as Juan Linietsky (reduz), Rémi Verschelde (Akien) and others.