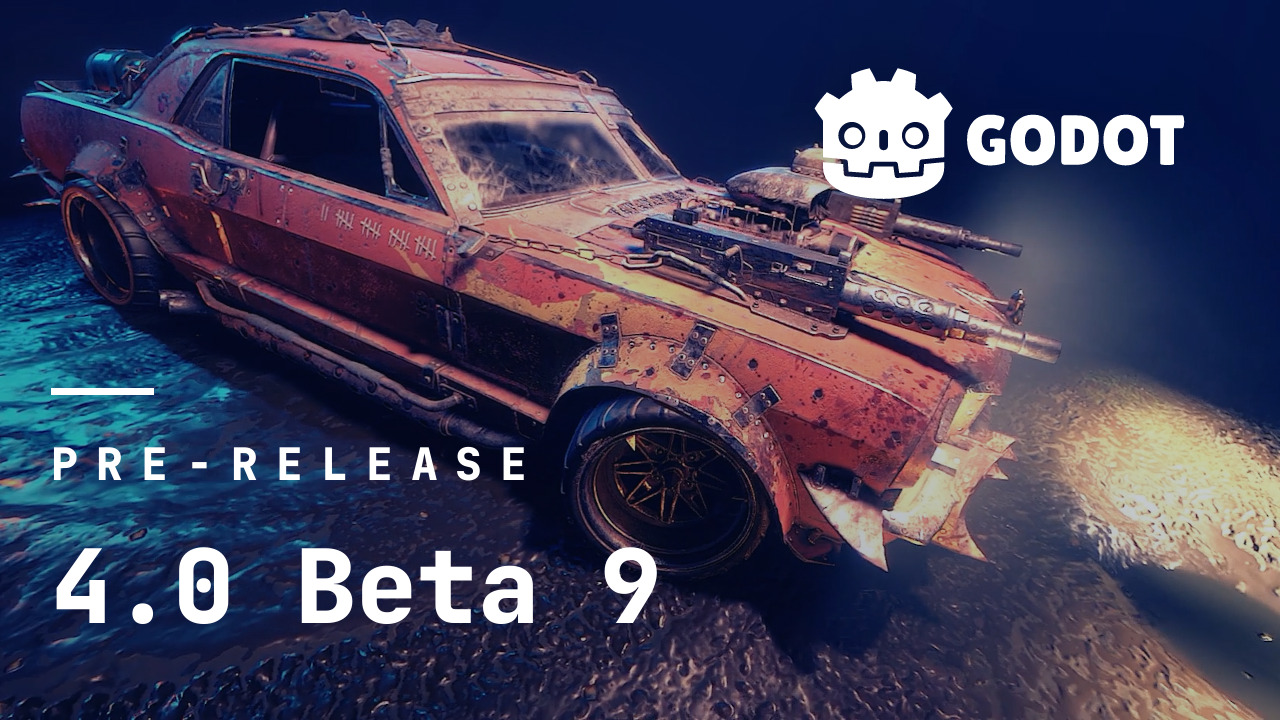 Dev snapshot: Godot 4.0 beta 9
By: Rémi Verschelde
19 December 2022
Godot 4.0 has been in beta for over three months, and the overall feature completeness, stability and usability have improved a lot during that time.
We continue to release a new snapshot every week to get fast feedback on our bugfixes, and potential regressions they may introduce. Thank you for your rigorous testing and timely reports!
This beta includes a few big changes which may interest a lot of users:
String and StringName are now mostly cross-compatible throughout the engine API, as well as in various GDScript-specific expressions and statements (GH-68747).
GDScript now fully supports out of order member resolution (GH-69471).
Every supported renderer option is now selectable from the project creation screen, which means you can create OpenGL 3 ("Compatibility") projects without using the command line (GH-70028).
The OpenGL renderer now use an instanced array buffer instead of UBO for canvas item batching, increasing performance and compatibility on low-end devices, including Intel Macs (GH-70065).
Jump to the Downloads section.
You can also try the Web editor (early testing, it's still slow and unstable).
The illustration picture for this article is from Raffaele Picca's car scene, rendered in Godot 4.0 using the Movie Maker mode, for the main menu of the upcoming FRANZ FURY game (made with Godot 3.x). Also check out Raffaele's Beat Invaders released earlier this year.
What's new
If you're interested in an overview of what's new in Godot 4.0 beta in general, have a look at the detailed release notes for 4.0 beta 1. In this blog post, we will only cover the main changes since the previous beta release.
See the changelog on GitHub, or the list of merged PRs, for an overview of all changes since 4.0 beta 8 (178 commits – excluding merge commits ― from 63 contributors).
While we do our best to minimize compatibility breaking changes for existing beta users, there are still occasional changes in the API which may impact your Godot 4 projects. See the list of PRs with the breaks compat label for details.
Some of the most notables feature changes in this update are:
This release is built from commit e780dc332.
Downloads
The downloads for this dev snapshot can be found directly on our repository:
Standard build (GDScript, GDExtension).
.NET 6 build (C#, GDScript, GDExtension).

Requires .NET SDK 6.0 installed in a standard location. .NET 7.0 is not supported yet, so make sure to install .NET 6.0 specifically.
Known issues
As we are still in the early beta phase of development, there are still many issues to fix, some of which have already been reported and are being worked on. See the GitHub issue tracker for a list of known bugs in the 4.0 milestone.
Bug reports
As a tester, you are encouraged to open bug reports if you experience issues with this release. Please check first the existing issues on GitHub, using the search function with relevant keywords, to ensure that the bug you experience is not known already.
As in any major release there are going to be compatibility breaking changes. However, we still try to provide a migration path for your projects. If you experience a regression without a known migration path or workaround, do not hesitate to report it.
Support
Godot is a non-profit, open source game engine developed by hundreds of contributors on their free time, and a handful of part or full-time developers, hired thanks to donations from the Godot community. A big thankyou to everyone who has contributed their time or financial support to the project!
If you'd like to support the project financially and help us secure our future hires, you can do so on Patreon or PayPal.